Events
Read about James's most current and upcoming gallery and museum openings and appearances
Borgata -Moneyline book and bar Grand Opening June 28-29
I'm so excited to celebrate the grand opening weekend of Moneyline Bar & Book at Borgata Hotel Casino & Spa! Join me in Atlantic City on June 28-29! Walk through an art gallery experience featuring original pieces painted by renowned sports artist James Fiorentino in the Signature Room. Walk through renowned sports artist James Fiorentino's Gallery of beautiful watercolor art before you meet your favorite athlete. Ticket includes one autographed professional athlete photo and one photo of guests' meet-and-greet experience which will be printed on-site by the event's photographer.*
Friday, June 28 | 6PM – 10PM
Saturday, June 29 | 12PM – 9PM
Tour of Somerville 2019

In partnership with Studio 7 Fine Art Gallery in Bernardsville , NJ, James was commissioned to paint the official artwork for the 2019 Tour of Somerville. The original artwork will permanently hang in the collection of the US Bicycling Hall of Fame in California. The painting was made into limited edition giclees and posters that will be available the week of the tour. The posters have been sponsored by Flemington Car and Truck Company, Land Rover of Princeton, Clinton Honda and The Somerset Patriots. There are many events leading up to the race on Memorial Day and James will be signing at a few spots. For more information please visit www.tourofsomerville.org

The historic, Tour of Somerville, the oldest bike race in the U.S. begins it's 76th year. Featuring top cyclists from around the world, more than 500 cyclists will compete in a variety of race categories. The morning begins with Junior men and women races followed by a variety of amateur races for seniors and masters. The feature races take place in the afternoon with the professional women and men events. The Mildred Kugler 25-mile race women's race starts at 3:00 pm and will feature Laura Van Gilder seeking her third straight women's title. The Kugler-Anderson 50-mile men's race starts at 4:05 pm with top professional men cyclists.

www.tourofsomerville.org
Opening Reception: Spring Training Exhibit at D&R Greenway Land TrustSpring Training: People, Places, Play
April 22 –June 14, 2019
Opening Reception April 26, 5:30-7:30 pm
Meet Babe Ruth's granddaughter, Linda Ruth Tosetti, at the Opening Reception. Linda will tell us about her famous grandfather and sign giclee prints of a portrait of the Babe created for this exhibit by James Fiorentino. https://drgreenway.org/events/2864/
5th Annual Rebuilding Warriors Fundraiser
James created an original painting that will be made into limited edition giclees that will be sold to raise money for Rebuilding Warriors.
2018 HAM MEMBERS EXHIBITION
My original watercolor painting "All is Calm" has been accepted for the 2018 Members Exhibition at the Hunterdon Art Museum.
The opening reception will be on Sunday, September 23rd from 3 - 5 pm
NJ Audubon: Bird Art
Watercolors by James Fiorentino The Wayrick Wildlife Art Gallery James Fiorentino has painted and illustrated some of the most recognized faces in the world from Presidents to Nobel Peace Prize Winners. His work is showcased in museums, galleries, and private collections across the globe, and his story has been told on national television and in the pages of magazines and newspapers. And now his trademark detail and realism in watercolor can be seen at the Wayrick Wildlife Art Gallery: James has curated an enchanting selection of his bird works especially for New Jersey Audubon. James is the youngest artist inducted into the prestigious New York Society of Illustrators. He is a member of the Society of Animal Artists, the New Jersey Watercolor Society, and the Salmagundi Club. He lives in Hunterdon County, NJ.
When Friday, August 31 through Monday, November 26, 2018
Gallery Hours Tuesday through Saturday: 9:00am to 5:00pm | Sunday: Noon to 5:00pm | Closed: Mondays
Where The Wayrick Wildlife Art Gallery, Scherman Hoffman Wildlife Sanctuary, 11 Hardscrabble Road, Bernardsville, NJ 07924 Cost Free
Studio 7 Fine Art Gallery Features Fiorentino Paintings: September 1 – October 27, 2018
"People, Places & Things" Watercolor Paintings by James Fiorentino
Artist Receptions September 7 and October 5, Friday 6:00 p.m. – 9:00 p.m.
5 Morristown Road
Bernardsvile NJ, 07924
Franke Edgar's Health and Fitness Mash-Up
James created a painting of Franke Edgar for this day of training and fitness with other MMA fighters. The event benefits the Embrace Kids Foundation. For more information visit FrankieMashUp.org or EmbraceKids.org
June 2018-Rockland County Stadium, NY
James created a painting for the the Landon Collins Celebrity Softball Game with over fifty current and former Giants in attendance. James is photographed here with Landon Collins and Saquon Barkley.
June 2018-Studio Fine Art Gallery, Bernardsville NJ
James hosted along with Studio 7 a celebration of baseball with Mets great Doc Gooden and former umpire Al Clark to celebrate baseball and art. The private party debut James's original artwork of Doc as both a Met and Yankee. Limited edition giclees are now available signed by Doc from his 1985-86 seasons and his No-Hitter as a Yankee. Limited edition giclees of Al Clarks greatest moments in baseball history are available in the store.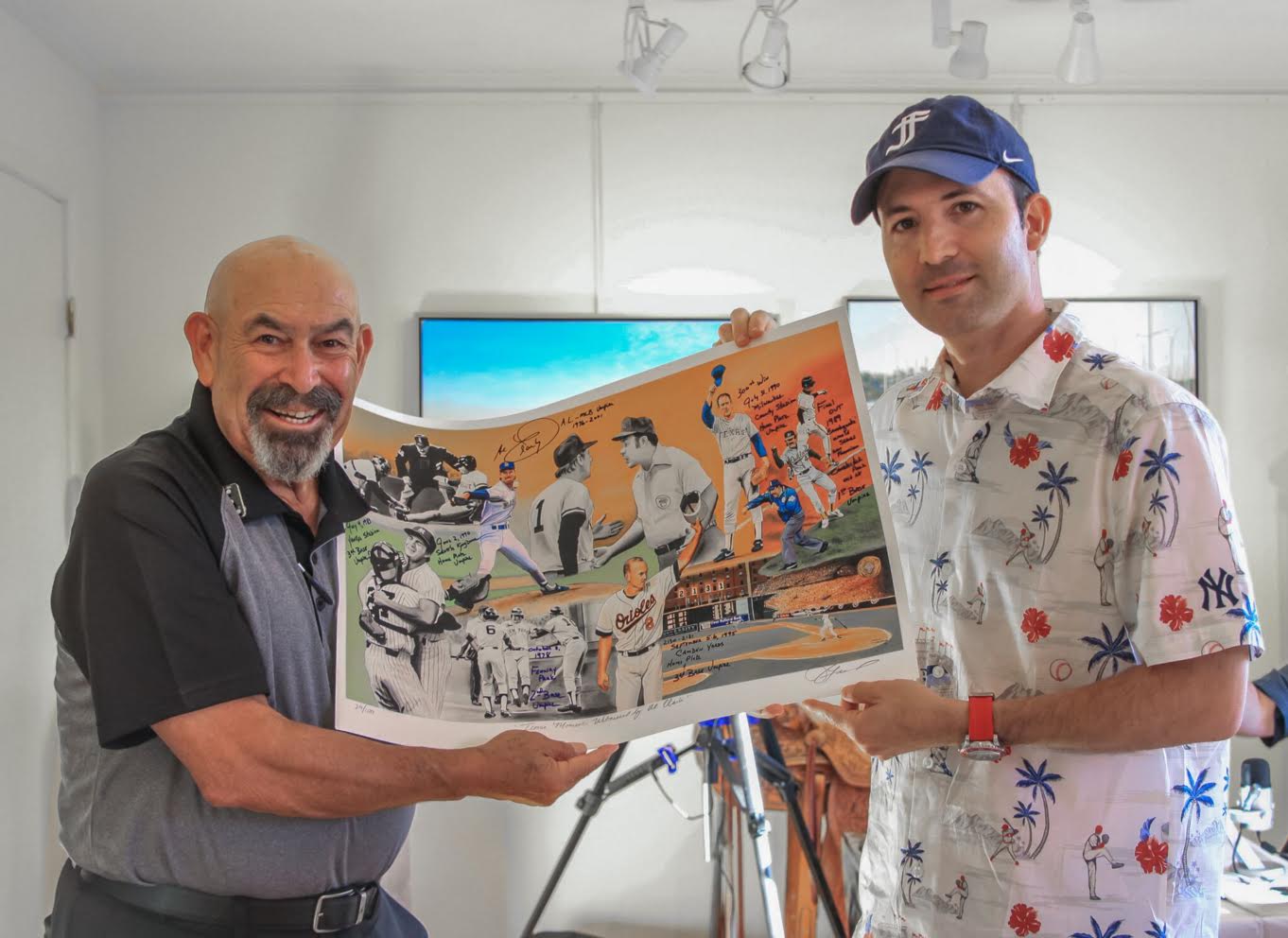 May 2018-Neshanic Valley Golf Course
James honored his friend Sparky Lyle at the Somerset County Parks Commissions Celebrity golf outing. Sparky was honored for his service to Somerset County and James presented a painting of him depicted as the Somerset Patriots manager.
An Evening With Al Clark and James Fiorentino at RC Collectibles
Lebanon, NJ-Nationally recognized artist James Fiorentino will take part in a celebration of baseball at RC Collectibles, 1060 Rt 22 W Lebanon, NJ 08833 on Saturday May 5 , 2018. Doors will open at 12 pm and the festivities will take place all day with prizes, silent auction and the unveiling of James's new original artwork "Iconic History Called by Al Clark" commemorating the career of veteran Major League Baseball umpire Al Clark.
The original painting has been made into limited edition giclees (available in store) that will be signed by James and Al who will also inscribe each moment with the date and description that he was there. The moments include Bucky Dent's famous home run in Fenway Park, Dave Righetti's no hitter at Yankee Stadium, Randy Johnsons first no hitter, Nolan Ryans 3ooth win, Cal Ripken Jr's 2130 and 2131 game and the 1989 World Series (Earthquake series) final out. The artwork depicts a quarter century of some of the most iconic baseball moments. This is a very unique piece that James has created and will be available for the first time at RC Collectibles.
"When one thinks about a 'Professional' at the top of his or her 'game', one knows that total quality is at bay. This is what I found so totally accurate working with wildlife and athlete artist James Fiorentino. From the inception of an original idea, to the sketches he puts on paper, to the commitment to excellence of the finished product being so unique and down right good, it's no wonder so many awards have been bestowed upon this so talented artist. From an umpire's perspective, James worked a whole season and didn't miss a play...from a player's perspective, his work is like hitting a game winning grand slam home run...like every day!" Al Clark umpire 1976-2001.
In addition to the signing there will be a special talk with Al and James about the paintings most famous moments and their stories of baseball. The signing will take place from 4-5 and talk -reception from 5-7 with food and drinks being served throughout the day. Some of the proceeds from the event will benefit BEST scholarships.
Drew University's Korn Gallery Presents: May 22-June 22, 2018

Rare Wildlife Revealed: The James Fiorentino Traveling Art Exhibition in Partnership with Conserve Wildlife Foundation. Rare Wildlife Revealed: The James Fiorentino Traveling Art Exhibit in partnership with Conserve Wildlife Foundation will continue its journey to Korn Gallery at The Dorothy Young Center For the Arts. Known for his sports -themed paintings, James Fiorentino C'99 is also a distinguished wildlife artist whose works have been juried into touring exhibitions. This exhibit and opening reception coincides with Alumni Reunion June 1-2 2018. The opening reception will be held on June 1, 4-6 PM.
IECC/ (Italian Educational and Cultural Center) Center for the Arts at Casa Colombo in Jersey City from March 25th through April 3, 2018
Renowned watercolor artist James Fiorentino will have a solo exhibition at the IECC/ (Italian Educational and Cultural Center) Center for the Arts at Casa Colombo in Jersey City from March 17 through April 30. The show will feature originals watercolors of James's work depicting his nationally recognized sports, portraits and wildlife paintings. The opening will be Sunday March 25, 2018 from 3-6 PM. For more information on James and his work please visit www.jamesfiorentino.com and to register for the opening please visit www.casacolombo.org

"I am honored to be showcasing my paintings at Casa Colombo this year. I am also very proud to be an Italian American and be recognized for it through my artwork. In recent years I have been involved with helping many Italian American organizations and I know my family is very proud."

The Casa Colombo building on Monmouth Street in Jersey City is an important historical structure. Built by Italian immigrants in 1936, the edifice served for many years as a social center for Italians who settled in Jersey City. The exterior facade has gone virtually untouched since it was originally built. However, over the years, the interior has undergone many transformations. It now contains two art galleries, a performance space and the Heritage Hall which exhibits numerous artifacts brought to America by Italian Immigrants. The Italian Educational & Cultural Center, and Center for the Arts at Casa Colombo (IECC) has a two-fold mission:

1) To honor Casa Colombo's place in immigration history by maintaining its historic building and by displaying historical materials and interpreting them for a culturally diverse population in Jersey City and Hudson County.

2) To foster the arts and humanities in the area through visual arts exhibits, concerts, performances, talks, tours, and other programs
Monmouth University-Pollack Gallery January 13, 2018 - February 19, 2018

Rare Wildlife Revealed: The James Fiorentino Traveling Art Exhibition will travel to Monmouth University. In partnership with Conserve Wildlife Foundation , the exhibition showcases twenty five original watercolor paintings depicting threatened and endanger species of New Jersey. The opening reception will be held on February 9, from 7-9 PM. For more information please visit www.monmouth.edu and www.conservewildlfenj.org
Italian American Baseball Foundation -December 7, 2017

Kicking off its inaugural event last year honoring National Baseball Hall of Famer Mike Piazza at Carmine's Restaurant and Sports Bar in Brooklyn, New York, the Italian American Baseball Foundation (IABF) has set out to make this year's festivities better than ever by presenting guest of honor Bobby Valentine with a commissioned portrait of the Italian American baseball legend from internationally-renowned sports artist James Fiorentino. In addition, IABF Executive Gary Perone will be honored for the invaluable contributions he has brought to the game.

On December 7, 2017 IABF Board Members Joe Quagliano, Fabrizio De Robbio, Carmine Gangone and Michael DeSapio promise to deliver a once-in-a-lifetime opportunity to enjoy a star-studded cocktail reception beginning at 6:30 pm followed by a delectable authentic Italian dinner attended by some of MLB's best past and present players including: Frank Catalanotto, John Franco, Jeff Nelson, Francisco Cervelli and Brandon Nimmo. New York Mets announcer Wayne Randazzo will serve as the emcee for the evening, and guests in attendance will be treated to an unforgettable performance from Italian Tenor Sal Spatola.

Federazione Italiana Baseball Softball (FIBS) president Andrea Marcon and Team Italy manager Gilberto Gerali will address attendees with their call to action in preparation of the 2020 Olympics. The IABF is a 501(c)(3) charity founded by former Italian American MLB favorite Frank Catalanotto, Mint Pros president Joe Quagliano, FIBS executive Marco Landi and critically-acclaimed restaurateur Carmine Gangone. Gangone will once again host this monumental evening at his family-owned Brooklyn restaurant that was opened nearly 40 years ago by his Italian immigrant father from Salerno.

All fundraising dinner proceeds will support youth baseball in Italy by building and maintaining ball fields, awarding student-athletes with scholarships and financial aid, purchasing uniforms and equipment as well as organizing pitching, fielding and hitting clinics with MLB instructors under the guidance of FIBS. The Italian American Baseball Foundation is a community of fans, MLB players, and baseball executives dedicated to the future of Italian American baseball in Italy and the USA.
Baseball in Black and White: The Watercolors of James Fiorentino - October 14, 2017
Opening Day/Night Reception: Saturday, October 14 from Noon - 8:00 PM. Bergino Baseball Clubhouse • 67 East 11 Street, The landmark Cast Iron Building, Greenwich Village NYC. An art show unlike any we have curated before. Nearly two dozen original watercolor paintings. All in black and white. Larger paintings -- and unique smaller pieces. Featuring prominent figures throughout baseball history, from 20th Century legends to the stars of today.
James Fiorentino's "Baseball in Black and White" watercolor artwork will be on exhibit and available for purchase in the Bergino Baseball Clubhouse from October 14 - December 24, 2017.
At the Opening Day/Night Reception: complimentary beer, beverages, ballpark snacks.
Contact: Jay Goldberg, proprietor, Bergino Baseball Clubhouse • 212-226-7150 • bergino@aol.com
Dellin Betances-Latino Sports MVP Awards - NYC - September 19, 2017
Yankees All Star pitcher Dellin Betances will receive a painting from James for wining the 2016 LatinoMVP American League Closer of the Year
Rare Wildlife Revealed Morristown Performing Arts Center - april 2-8,2017
Famed sports artist James Fiorentino returns to New York City with new traveling wildlife art exhibition at historic Salmagundi Club on April 4. His sports art long celebrated at Baseball Hall of Fame and other venues, Fiorentino's wildlife watercolor exhibition arrives in NYC with free reception
New York City, NY – Nationally celebrated artist James Fiorentino has been celebrated for his iconic paintings of New York sports icons like Derek Jeter, Yogi Berra, and Odell Beckham, Jr. Now Mr. Fiorentino returns to New York City with a new muse for his prodigious talents – the vulnerable, oft-overlooked wildlife of the metropolitan area.
"Rare Wildlife Revealed: The James Fiorentino Traveling Art Exhibition" will make its New York City debut at the historic Salmagundi Club during the week of April 2-8, 2017. A free reception will be held on Tuesday, April 4 from 6-8 PM at the Salmagundi Art Club Patrons' Gallery, located at 47 Fifth Ave., New York, NY 10003.
Offered by the nonprofit Conserve Wildlife Foundation, the exhibit is part of a three-year traveling exhibition around the northeastern United States that kicked off this past fall.
"In this bustling metropolitan area, it is all too easy to overlook the wildlife that shares our cities and suburbs – yet New York City is blessed with an inspiring 'Noah's Ark' of rare wildlife," says Conserve Wildlife Foundation Executive Director and wildlife author David Wheeler. "From peregrine falcons and bald eagles to diamondback terrapins and sea horses, New York is home to extraordinary wildlife that has found a way to adapt to life in the city. We are so grateful that James Fiorentino has placed his artistic focus on these species. His evocative watercolor portraits bring the wildlife to life on the canvas."
Mr. Fiorentino's watercolor paintings depict some of the New York metropolitan area's most endangered and vulnerable species. The April 4 reception will feature a number of wildlife biologists joining the artist in engaging visitors to the show about the diverse wildlife species that call New York City and surrounding areas home – many of which are featured in Mr. Fiorentino's realistic portraits.
Little brown bats can be found in Central Park, while peregrine falcons and ospreys can be seen soaring over Jamaica Bay.

Piping plovers migrate to Rockaway Beach, while harbor seals sunbathe on Orchard Beach.

Humpback whales are spotted along the shoreline in Brooklyn and Queens, while box turtles can be found at Clay Pit Ponds on Staten Island.
Conserve Wildlife Foundation's Rare Wildlife Revealed: The James Fiorentino Traveling Art Exhibition
Salmagundi Club - Nautical Exhibition - July 10-27 2017
The Margaret Anne" is a 22 x 30 watercolor painting I created this year (New Jersey scene) that will be hanging at the Historic Salmagundi Club July 10-27 for their Nautical Exhibition.
Saratoga Springs NY - July 2017
24th Newton Plaza & Marini Homes Siro's Cup, the unofficial kick off of the thoroughbred racing meet at Saratoga Race Course, held on the eve of opening day. 2017 National Museum of Racing and Hall of Fame Inductee Javier Castellano will be the evening's honoree. Castellano won the 2017 Preakness Stakes on Cloud Computing, and is a four time consecutive winner, (2013-2016) of the Eclipse Award for Outstanding Jockey. James Fiorentino will be presenting Javier an original painting of him winning the Breeders Cup Classic in 2004 on Ghostzapper. Limited edition giclees will be available signed by Javier to benefit the Center.
Sunset Safari-Lion and Hyena Exhibit at Turtle Back Zoo - June 9, 2017
Celebrating the Grand Opening of the Lion and Hyena Exhibit at Turtle Back Zoo-June 9, 2017. James has created original artworks to celebrate this wonderful occasion with he Zoo.
Victor Green Foundation - September 20, 2017
James has created an original painting of former Jets safety Victor Green to be auctioned off to benefit the Victor Green Foundation. The celebrities in attendance including many Hall of Famers will sign the original artwork.