Latest News
Check out all of James's latest news including new projects, art releases and media appearances
Saratoga , NY -Siros Cup July 2019
Jose and Irad Ortiz were recently presented with this paintings in Saratoga as part of the Eclipse Award at the 26th annual Newton Plaza Siro's Cup to benefit the Center for Disability Services Foundation, Inc. in Albany. James created paintings of Irad on Lady Eli and Jose on Elate. Limited edition signed giclees are available to benefit the Center.
Latino Sports-Edwin Diaz
New York Mets closer, Edwin Díaz was presented a painting by James Fiorentino, who was awarded the LatinoMVP Award.
The LatinoMVP award, which was started by Latino Sports has grown into the most prestigious and oldest award given to Latino baseball players and sponsored by MLB
Baseball As Art Exhibit: From the American Legion to the Big League Cleveland Arts Council
Join us this summer as we present our annual Baseball as Art show from July 11- August 21. As our national pastime, baseball is an integral tool in teaching our youth about fundamental life skills such as communication, teamwork, and sportsmanship.

The American Legion currently boasts 80 players who achieved Hall of Fame status in the major leagues after playing for an American Legion team. This exhibit will celebrate the rich history of American Legion baseball, while also celebrating the game and the art it inspires.

National, International and Local artists come together for the annual Baseball as Art Exhibit at the Cleveland County Arts Council in Shelby, NC. The exhibition coincides with the American Legion World Series games August 15 – 20, 2019.
Beckett Baseball Card Monthly - June 2019


Painted this Mike Trout watercolor for Beckett and am beyond excited to have it on the cover!
As a teenager I won two Beckett Sports art contests (Muhammed Ali &. Steve Carlton, which became a part of Beckett's permanent collection)— and I've had articles about me as well as features of my art—full story and inside covers, but this is my First Cover for Beckett Media!
Ballers -HBO Season 5


James was asked to create several paintings that will be featured on set of HBO's Ballers season. The artworks will be featured on some of the main sets of the show. "This was so much fun to do because I am such a huge fan of the show. I cant wait to see my work on television when Season 5 comes out!"
OJ Anderson
James presented OJ Anderson (former Super Bowl MVP of the Giants) an original as he was honored at the Somerset Pro Celebrity Golf Outing Monday night at Neshanic Golf course.
2019 Art Fair 14C Juried Show

James's "Neighbor" was selected to the 14 C juried show in Jersey City, NJ. Artwork in the Juried Show will be on display in the Manhattan Ballroom of the Hyatt Regency between March 15-17, 2019. Portion of the sales of the artwork will benefit the Jersey City Arts Council.
NWS 2019 National Watercolor Society Annual Members Show
One of the most prestigious watercolor juried shows in the world, the NWS is one of the oldest nonprofit artist led societies in the United Sates. James's neighbor was selected for this year exhibition and will be on display at the NWS gallery in San Pedro California. https://nationalwatercolorsociety.org
Former Mets pitcher John Franco
Received an original painting created by James Fiorentino through the Italian American Baseball Foundation in Brooklyn, NYC .
Sports Collectors Digest - December 7, 2018 Issue
James's Mickey Mantle artwork has been featured in the latest SCD magazine and was spotlighted with four other artists.
Houston Astros' José Altuve accepted this James Fiorentino original
During a recent home game on-field ceremony honoring Altuve with the prestigious Latino MVP for his outstanding 2017 season.
Watercolor Painting by James Fiorentino presented to Latino MVP Award Winner Gary Sanchez
by Latino Sports Writers & Broadcasters Association on the field at Yankee Stadium following the Hispanic Heritage 28th Annual Latino Awards Ceremony, which was held at nearby Giovanni's Restaurant.Sanchez was awarded the prestigious award during a Hispanic Heritage Month community awards event at a restaurant walking distance from the stadium, but unfortunately could not attend. For the full story, read here: http://www.latinosports.com/28th-annual-latinomvp-awards/
LT. GENERAL JOHN A. TOOLAN. (Retired Marines) Painted by artist James Fiorentino and presented to Toolan at a Special Dinner honoring Legacy of WWII Hero John Basilone.
James's artwork was presented to Gio Gonzales, pitcher for the Washington Nationals for winning the 2017 Latino Sports MVP NL Pitcher of the Year.
Gio was blown away by the painting and could not stop talking about it.
August 26, 2018-Citifield, NYC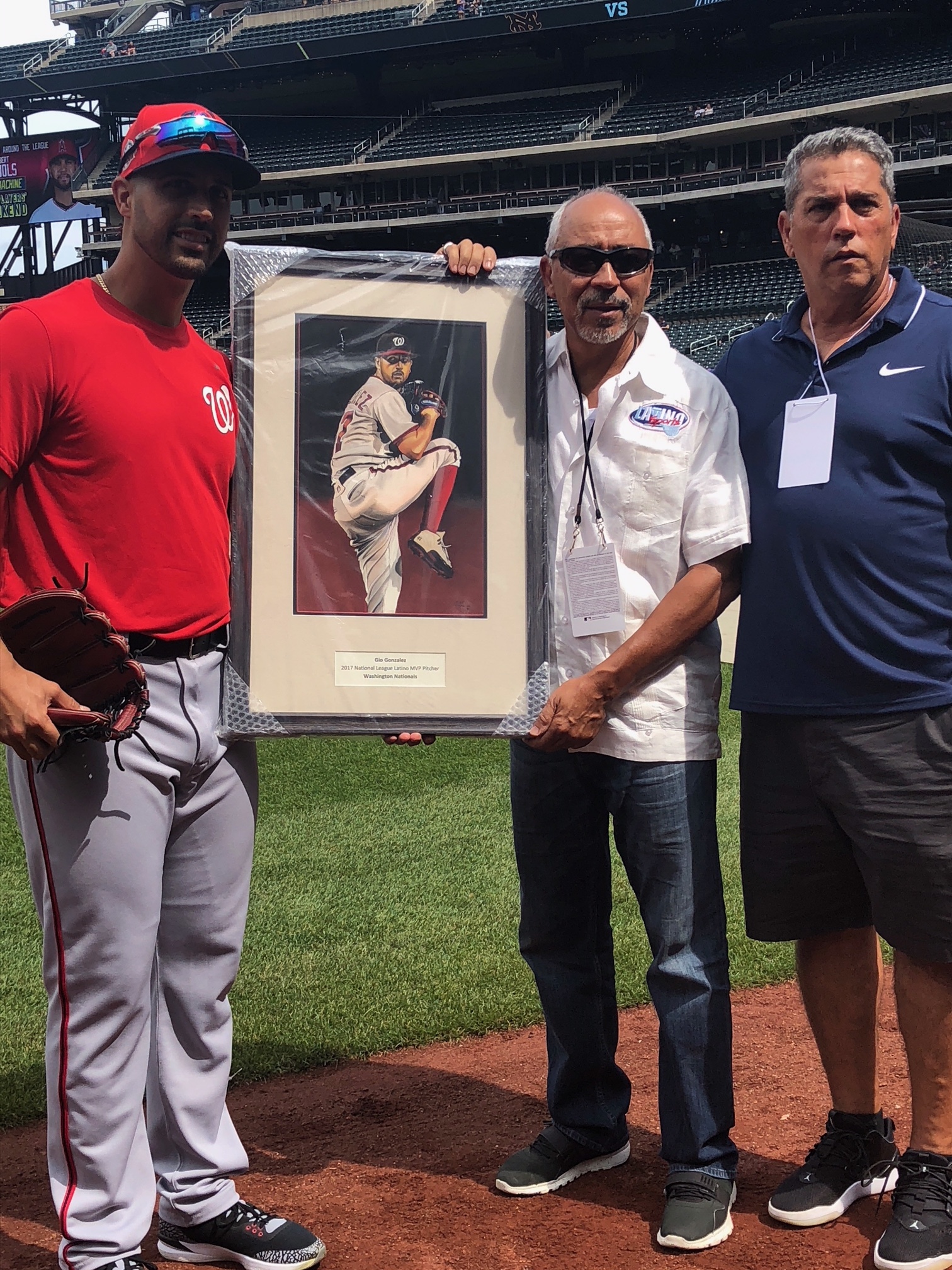 Francisco Lindor presented James Fiorentino original artwork for Latino Sports MVP in Puerto Rico
James Fiorentino on set at GMA with Michael Strahan
James presented Giants Hall of Famer and Good Morning America Host Michael Strahan an original painting in his back offices after the show.
MallGalleries - Tuesday, 1st May – Sunday, 6th May, 2018
Put the date in your diary and don't miss out on this fabulous wildlife experience at one of London's most prestigious art galleries.
Where: Mall Galleries, London SW1
When: Wednesday May 2nd – Sunday May 6 (PV Tuesday May 1st by invitation)
Opening hours:
Wednesday to Friday – 10am to 5pm
Saturday – 10am to 4pm
Sunday – 10am – 1pm
James painting "Barred Owl" was selected to the 5th Annual Juried Highlands Art and Photography exhibition will feature a selection of works featuring landscapes, flora, fauna, natural, cultural and/or historic resources of the Highlands of New York, New Jersey, Pennsylvania, and Connecticut. For more information on the show please visit www.morrismuseum.org
Award Winners for 2017 AFC Exhibit
Vancouver, BC CANADA - August 26, 2017 - Artists for Conservation (AFC) is pleased to announce the award winners of the tenth annual AFC Exhibit to be held this fall in Vancouver, BC. The awards include five AFC Medals of Excellence, which recognizes at least five outstanding artworks in the exhibit, and an Environmental Statement Award. AFC has also created a new Best in Show Award this year, in recognition of the highest scoring artwork by the jury panel in the annual exhibit. James Fiorentino for his painting, "Portait of a Bighorn Sheep"
latino sports mvp - July 2017
James created a painting of Cardinals All Star Catcher Yadier Molina to celebrate his Latino MVP award through Latino Sports. The original artwork was given to Yadier at Citi Field when he was in town to play the New York Mets. James has painted many legendary players for Latino Sports over the past ten years.
Larry Holmes Heart of a Legend Golf Outing-July 2017
This 30 x 40 original painting was created for Larry Holmes celebrating the heavyweight Champs career. Limited edition signed giclees are available to benefit his Heart of a Legend charity. I unveiled this at Larry's home at their annual golf outing.
The Raptor Trust of New Jersey -The Len Soucy Memorial Lecture Series
Pulitzer-Prize nominated author, conservationist and ornithologist Scott Weidensaul spoke on the migration of Snowy Owls on the East Coat of North America. A founder of Project SNOWstorm which tracks Snowy Owls, James created a painting to help raise money for the Raptor Trust. Once of the owls, Amishtown was featured in the painting which was created into thirty limited edition giclees signed by James and Scott.
Hanging out with Al Roker -May 2017
Had a chance to meet Al Roker at his office in 30 Rock. I presented him with an original painting of himself with his rescue dog Pepper. The artwork will go into a book on amazing rescue animals and their owners stories. All profits from the books sales will be dedicated to helping homeless animals worldwide.
The Society Of Animal Artists

I have been selected to participate in my third Annual Exhibition with the Society of Animal Artists and have been promoted to Signature status. My "Lined Seahorse" original will be in display this Fall at the Hiram Blauvelt Art Museum in Oradell, New Jersey.

My 9 x 12 original, "Brown Bear Fishing" will be featured at The Nature Art Museum in Gloucester , England this Summer through the Society of Animal Artists Members show and sale.

I am also very proud to announce my painting " Portrait of a Bighorn Sheep" will be on display at the Trailside Galleries in Jackson, Wyoming August 1-31, 2017.